TV's design couple have different tastes, but both show 'personality'
Jul 11 2011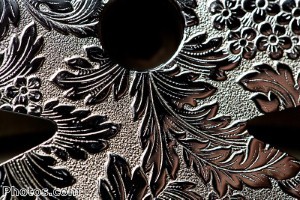 An interesting texture can be the focal point and jumping off place for the design of a room.
New York-based interior designers Robert and Cortney Novogratz have different tastes - she likes Southern charm, he goes for downtown coolness - but their advice for would-be decorators is in agreement, according to the Washington Post.
Start with a focal point. Don't buy everything in one place. Photographs add personality to any room.
The Novogratz couple, whose new design show Home by Novogratz starts July 16 on HGTV, are owners of the firm SixxDesign and authors of Downtown Chic. On the new show, they will focus on an artist in each episode, from a furniture craftsman to a street artist.
"[Art] helps people push their home's potential," she stated in the Post. "I always say, 'If you're going to put something on your wall, tell a story."
But when it comes to home decorating, some rules have to apply, the designers insist. "There should always be one absolutely fantastic piece that you work off," Cortney told the newspaper. "Whether it's an old bed or antique dresser or bright neon chairs, pick a focal point that you love and design around it."
One focal point can be the treatment chosen for a room's windows or glass doors. Using the Novogratz' differing sensibilities, an interesting combination of materials - a sheer curtain hanging from a wood valance or
honeycomb shades
used in ultra modern décor - would be one way to draw attention to a windows as a focal point.
Gathering decorative items from various sources also gives a room character. "If you buy everything from one place, your home will end up looking like a chain store," said Robert. "It's not unique. It's not you."
Making a room "you" also means bringing in personal items to define who lives in the space, and no item defines that quality better than photographs of loved ones, places visited and the work of a photographer that a homeowner admires.
"Whether they're family photos or landscapes or a photographer that you love, start a collection," said Cortney.
She also told the newspaper that a cluster of mirrors not only gives the room some reflected depth, but comes across as a fun-loving art collection.
For her husband, the Post reports that paint and wallpaper are tools he uses to create a focal point. "Putting a cool, funky wallpaper on one focal wall will add a unique character to your house," he said.
Bookmark/Share this page: