Create a cozy nook in your home to unwind
Jul 11 2011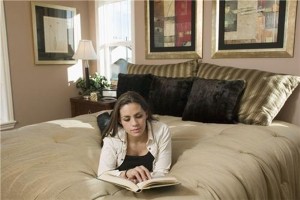 Create a cozy nook in your home to unwind
Creating a cozy spot in your home that is dedicated to such simple luxuries is the best way to relieve some stress. Taking in a good book may be more beneficial than you think. Everyone deserves a convenient space to relax and unwind after a long day, and Freshome.com has put together their best kept secrets for making the perfect nook in your house.
In every option, a bright window is key to picking a promising area, so look around your home to find a suitable spot - on your porch, in your den or even in your home office. Next, pick out the perfect chair that is both comfortable and fashionable. Look for a design that reclines or add your own unique foot stool for a supplemental flair. Keep a small end table next to you and find a nifty throw for those cold and rainy days that are perfect for reading a good book.
Being near a window has its perks and flaws. Look into installing
window treatments
in your new area that offer options.
Wood blinds
or
faux wood blinds
are great options, as they look natural and elegant, offering you the ease to tilt and adjust for the best lighting.
All that's left is finding an engaging book to put this new space to good use!
Bookmark/Share this page: