Q:
Do you carry Ambria blinds? I am looking for the Ambria brand bamboo shades and wondered if you carried them or a comparable product.
A: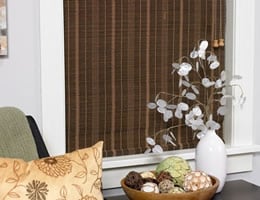 We do not carry the Ambria brand but we have comparable bamboo blinds. Our bamboo shade prices are hard to beat but don't let the price fool you. Each of our bamboo shades are custom made from top quality components and materials. At Blinds Chalet we take pride in the quality and workmanship of our complete line of bamboo shades.
With each product we offer free samples so you can see the colors and quality of the fabric. Each bamboo shade is woven from natural material such as bamboo, jute, grasses, etc. so you know they are environmentally friendly.
Watch for our specials such as buy 3 get 1 free, free edge binding, and free liners on our bamboo shades. Shop online, get free shipping and save. Order your new bamboo shades today!
Bookmark/Share this page: