Q:
What makes a quality wood blind?
A:
There are several factors that go into quality wood blinds. Some of these include the
quality of the wood slats used, the components used when making the blinds.
Wood Slat Quality
One of the most noticeable is the quality of the wooden slats. Wood blinds come in various grades of wood quality and finishes. The majority of
real wood blinds
are made from basswood which is the best quality wood currently used.
A quality finish involves sanding, staining, and finishing. If any of these are not done right it can affect the finish. A good stain or paint enhances the finish of the wood. The sides of the wood slats should be painted or stained to match and not left bare. Finishes vary from flat to glossy. A quality finish will be an even satiny smooth, without any dark spots and free of any bubbles or dust.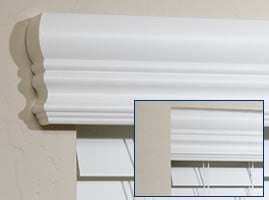 Cornice Style vs Non Cornice Style Valance
Valance
Wood blind valances will vary. Choose a wood blind that best fits your needs. Cheap wood blinds offer a simple valance with little contour. Nicer wood blinds come with a larger crown molding valance. At Blinds Chalet we eve offer a "cornice style" valance with most of our blinds at no additional charge. This valance adds an more elegant designer look to the blinds.
Components
The components used includes the weight of the cords used, the lift and tilt mechanism and the headrail. Ensure the wood blinds come with a metal headrail.
The bottom rails come in both rectangular as well as trapezoid. Quality wood blinds offer a trapezoid bottom which is designed to allow the blinds to close tighter.
For the best quality wood blinds choose a blind from our "Best" section in our wood blinds category. Buy your
wood blinds
today!
Bookmark/Share this page: