Sunova Light Filtering Fabric Roller Shades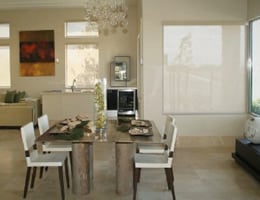 Bookmark/Share this product:
Designed with light filtering and translucent fabrics that let the maximum light in without seeing through the shades. Ideal for areas where you want the maximum filtered light without sacrificing privacy.

Each Sunova Light Filtering Fabric Roller Shades come with an external fabric wrapped bottom rail. Standard configuration showcases a visible roll at the top of the window with optional fascia valance upgrades.
Product Out Of Stock






Due to the color variation between monitors we recommend ordering samples before placing your order if color is important.

This is a forum to ask product related questions that will be answered by our design consultants. If you have a question regarding an order or a customer service issue, please call us at (888) 633-7840 or use our
contact form
.
Approved questions and answers may take several days to appear on site but you will receive a quick response to your question.
Q:
How much privacy do these offer in the evening when shades are down and lights are on in the room?
Asked on Nov 19 2013 by Susan Ransbottom
A:
There is some privacy with these shades. You will be able to see shadows but not details.
Write a Review

Very accurate manufacturing of the shade.
Jul 25 2012
Measuring:
I measured my own blinds!
Installation:
I installed my own blinds!
Very accurate manufacturing of the shade. Installation instructions very clear. Delivery within the specified manufacturing interval.

Fabric Wrapped Fascia Valance
Available in 3" and 4" sizes, the fabric wrapped fascia valance is and aluminum extrusion wrapped in matching fabric to the roller shade. Designed to cover the front and bottom of the roller, the fabric wrapped fascia is available in standard roll only, reverse roll not an option.

Motorization
Raise and lower your window shades with the touch of a finger. Our remote controlled shades use a radio technology system. Cassette headrail upgrade is required for motorization on all roller shades.

Remote - 1 Channel
Control a single window shade or a group of window shades with one remote.

Remote - 4 Channel
Control 4 window shades or 4 groups of window shades on the same remote. Motorization option must be selected. Remote runs off alkaline batteries.

Square Aluminum Fascia Valance
3" and 4" square aluminum fascia is made from an "L" shaped aluminum extrusion, covering the bottom and front of the roller. Valance snaps into brackets and fittings concealing the roller.

Size varies based on the roller thickness or length of the shade. Available in standard roll only, not available in reverse roll.

Wall Switch - 2 Channel
Works just like a wall switch. Control up to 2 window shades or 2 groups of window shades. The switch is easy to install with a standard electrical box. No wiring is needed. Remote runs off battery.
Shipping
Each of our blinds and shades are custom made to your specifications. You can expect them to arrive approximately 2 to 2 1/2 weeks after ordering. Standard shipping is UPS or FedEx ground.
Product Specifications
Width:
12" - 94"
Height:
12" - 144"
Free Features

Lift Cord
The lift cord is used to raise and lower the blinds. This option allows you to select the position of the cord on the blinds.

Roll Type
Reverse roll feature is available at no extra charge with all roller shades. The reverse roll allows the fabric to roll off the front of the roller instead of off the back, which is standard. The reverse roll conceals the hardware system for a contemporary, tailored appearance.
Need Help Finding Something?
At Blinds Chalet we can special order just about any window covering even if it's not on our website.

Call us at (888) 633-7840
or