Search Results For: large window
114 Matches
Window Coverings
Designer Valances
Faux Wood Blinds
HoneyComb Cellular Shades
Wood Blinds
Bamboo Woven Wood Shades
Aluminum Mini Blinds
Roman Shades
Vertical Blinds
Roller Shades
Solar Screen Shades
Sheer Shadings
Horizontal Fabric Shades
Pleated Shades
Skylight Shades
Exterior Porch Shades
Other
Wood Alternative Shutters
Hunting Window Blinds
RV Blinds & Shades
Common Questions for "Large Window"
How To's for "Large Window"
Door Blinds - How to Measure for French Door or Traditional Door Blinds
Door blinds can be any blind or shade mounted as a
door mount blind
. French door blinds or traditional door blinds are simply outside mount blinds or shades with hold downs to keep them from swinging as the door opens or shuts. People commonly mount blinds in a door at their home or office. Popular blinds that are used on doors range from faux wood, wood, cellular shades and roller shades. When measuring for
french door blinds
there are several things to consider....
more
Corner Window Blinds
If two windows meet in the corner and privacy is a concern, the best way to install
window blinds
or shades is to overlap them (see figure). One blind will be the measurement from the wall to the window. The second blind will be the measurement from the wall to where the second blind will be. This measurement will be from the wall to the window subtracting the width of the blinds. For a 2 inch wood blind, that will be about 2 to 2 1/2 inches....
more
Measure Window Shades or Blinds for Tile or Moulding
Occasionally obstructions can get in the way of window shades or blinds such as wood moulding or a tile back splash. Cut-outs can be made in the blind or shade for proper clearance in these areas. There is a surcharge for each cut made....
more
How to Measure Vertical Blinds for Sliding Glass Doors
When measuring window blinds for
sliding glass doors
it is important that you measure the blind to fit as on OUTSIDE mount. Vertical blinds are a common window treatment for sliders. More times than not there is not enough depth in a window to mount
vertical blinds
inside the window frame. Often there is Moulding encasing the window and your measurement must allow for it. A common rule of thumb is to ADD 2 inches to the length of the vertical blind. In other words measure from the floor to 2 inches above the moulding. If you have no moulding measure from the floor to 2 inches above the top of the opening....
more
Blinds for Angled Top Windows
Blinds
or shades can be difficult to find for angled top windows. A few manufacturers make window blinds or shades with angled headrails for this purpose. Another option is to leave the angled top of the window open and just mount the window blinds or shades with the headrail just before the angled portion of the window. This article will discuss how to the the later....
more
How to Measure Window Blinds for Bay Windows
When measuring
window blinds for bay windows
, you will need calculate the intersecting points of the blinds to determine the width of each piece. The first step is to select a window shade noting that different types of shades will have different depths. Once you have selected the blinds or shades, you will be able to get the depth you need to calculate the intersection point. See the product specifications for exact depths....
more
Measuring Roller Shades
Each
roller shades
comes with a cord lift. The side in which the lift cord is located will have a gap to allow room for the lift.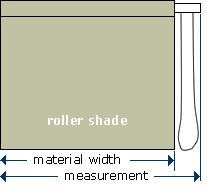 The measurement will be the tip to tip measurement and will take into account the width of the controls....
more
Vertical Blinds Stack Height
When
vertical blinds
are drawn, the open vanes gather together forming a "stack" on one side of the window. The size of the vertical blinds stack will vary and is directly proportional to the width of the
window blinds
. The wider the window blinds are, the more vanes the blinds have and the more room the stack will take up....
more
How to Hang Blinds Between Cabinets
A typical window blind application is hanging window blinds above a window that sits between two cabinets. Because the window blind is mounted between two objects, whether it is a window frame, cabinets, or walls, the blinds and valance must fit within an opening. If this is the case follow these ease steps for correct measuring and installation....
more
Parts for Installing Horizontal Window Blinds
Below is a list of parts that are used when installing horizontal blinds. Note: You may not receive all the parts listed. You may also receive additional parts that are not needed. We will only send you the horizontal blinds parts for your particular application....
more
News Articles for "Large Window"

'S' curve line is among most unique vertical blinds from Blinds Chalet
Nov 10 2011
Some of the most unique vertical blinds offered by Blinds Chalet to homeowners are "S" curve style blinds that provide more privacy than most styles of this versatile window covering.

Starting with paper cutouts, furniture arrangement is made easier
Oct 28 2011
Instead of pushing heavy furniture around a room, an easy way to arrange a room is to put it down on paper first.

Screen panel track blinds solve the problem of covering extra large windows
Sep 30 2011
Extra large windows can sometimes present a design dilemma for homeowners.

UK designers see recession's effect on home decoration styles as well as budgets
Sep 29 2011
The recession has taken a toll not only on homeowners' decorating budgets, but has shifted their design style, according to UK designers and architects interviewed by the Daily Telegraph.

Wood grain vertical blinds
Sep 19 2011
Homeowners who have large windows or doors that require a sizeable window treatment don't have to give up the textured, variated hues of wooden blinds.

Vertical blinds range from textured styles to bamboo panel alternatives
Aug 25 2011
For large windows or glass sliding doors, vertical blinds are an affordable and attractive window treatment that manages light well and creates privacy when needed.

The look of outdoor and indoor spaces can be tied together with bamboo shades
Jul 28 2011
Bamboo shades, available in many sizes, can tie together outdoor spaces with interior rooms when they are used over large windows or sliding doors.

Wood blinds are a versatile choice to fit the 'undecorating' style of home design
Jul 15 2011
Mixing wood blinds with delicate, sheer curtains is a combination that home furnishings author Christiane Lemieux would probably like.

Roller shades are a good window covering for a remodeled basement
Jul 1 2011
Whether it will be used as a family room or another purpose, one of the most important elements to remodeling a basement into livable space is lighting.

Integrating your kitchen with outdoor surroundings
Jun 8 2011
By adding a large bay window or making best use of a sliding door, window blinds and shades could be a worthy ally when upgrading your cooking area, according to ConsumerReports.org.

Furniture arrangement should consider light needed for new design
May 17 2011
A new furniture arrangement can give homeowners - or apartment dwellers living in tight quarters - the additional space that they crave.

The right window treatments for sunrooms
Apr 21 2011
The best layout is to use window treatments that allow light to filter in and form a tight seal during the winter time, according to the Detroit Free Press.

Movement to open design offices requires more control of light and sound
Apr 1 2011
Open design in offices is a resourceful way of allocating space in a workplace. It often saves money for a business by fitting more people into less space and saves energy by allowing natural light to stream throughout the work areas.

Ceiling color and motorized shades come together well
Mar 21 2011
Many interior designers agree that a bright white ceiling may draw attention to its starkness instead of melding naturally into the overall color scheme of a room.

A softened, textured look comes with pleated window shades
Mar 9 2011
When home decorators are trying to decide what their décor style is, a good starting point is to focus on the fabrics and colors they like best in home furnishings.

Toning down wall colors and using nature hues guide home decorators' choices
Mar 7 2011
With the onset of spring, thoughts of sprucing up a room with new paint leads many homeowners to worry whether their color choices are too dark.

Fauxwood blinds help retain old-world charm in a modern kitchen
Feb 16 2011
When she enlarged the kitchen at her South Carolina home, interior designer Kimberly Williams included plenty of old-world charm in the design - pine flooring, French doors, a cozy seating area and a nearby storage pantry.

Motorized window shades can control light streaming through large windows
Feb 16 2011
Homeowner Pamela Porter learned a few things about renovations when she and her husband Lee moved into a 1923 craftsman-style bungalow in Des Moines, Iowa.

Wooden blinds can be integrated into a new furniture arrangement
Jan 28 2011
Apartment dwellers need to make the most of the space they have in their dwelling, especially if the same space serves different purposes.

Fauxwood blinds can be ideal for ambitious renovations
Jan 26 2011
When it comes to renovations, homeowners may be hesitant to perform any substantial construction because they never know how it will turn out. Michael and Sarah Sypher recently completed a three-year project on their new Kansas home.