Metallic PVC 3 1/2" Vertical Blinds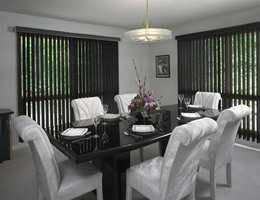 Bookmark/Share this product:
Add some high class with a sleek mirror finish to your windows! Custom made PVC mirror vertical blinds in Gold Black and Chrome! Matching metallic valance included. Our Metallic look vertical blinds will dress up and modernize your windows! For a clean crisp look our Metallic and black PVC vertical are the perfect look for your home or office!
Upgraded, stiffer headrail.
Self aligning carrier.
Free dust cover valance included.
Cord Control Only!
Metallic or Black color on inside of vanes only.
Instant Savings! Dont forget to enter coupon at checkout for the 40% Off Savings !






This is a forum to ask product related questions that will be answered by our design consultants. If you have a question regarding an order or a customer service issue, please call us at (888) 633-7840 or use our
contact form
.
Approved questions and answers may take several days to appear on site but you will receive a quick response to your question.
Write a Review

No reviews yet.
Be the first to rate this product
.

Additional Vanes(3 pack)
Add three extra matching vanes with your purchase. This an ideal purchase for areas in the home that are exposed to high traffic, children or pets.

Executive Valance
Improve the look of your vertical blinds by adding our "Executive Valance". Each executive valance comes with colored trim to accent your blinds in either a smooth or rope look. Choose from our large selection of color inserts.
Shipping
Each of our blinds and shades are custom made to your specifications. You can expect them to arrive approximately 2 to 2 1/2 weeks after ordering. Standard shipping is UPS or FedEx ground.
Product Specifications
Width:
9" - 104"
Minimum Mounting Depth:
1.75"
Height:
12" - 104"
Minimum Flush Mounting Depth:
3.75"
Headrail Dimension:
2" x 1.25"
Free Features

Stack Side
Specify the location of where the vanes gather when the blinds are drawn open.

Draw Position
Select the side of the blind for the draw control location. The draw control is used to open and close the blinds.

For a cord control, the draw position will be on the same side where the blinds stack. For a wand control, the draw position will be on the opposite side of where the blinds stack.
Need Help Finding Something?
At Blinds Chalet we can special order just about any window covering even if it's not on our website.

Call us at (888) 633-7840
or