Light Filtering Panel Track Blinds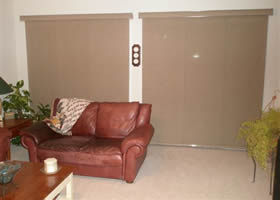 Bookmark/Share this product:
Our Light Filtering Panel Track blinds are made from the same translucent fabrics as the following fabric roller shades:
Classic Light Filtering Roller Shades
Signature Light Filtering Roller Shades
Each light filtering panel track blind comes standard with a matching dust cover valance to cover the headrail at the top of the blinds.
Translucent or light filtering fabric panel track blinds provide privacy while letting some light pass through the blinds. Ideal for large windows in areas you want some light to enter the room while providing privacy.
Split Draw is available with cord control only. One way draw offers cord control or wand control. The cord control is on the the side the panels draw to or the wand will be on the side opposite the side the panels draw to.
Product Out Of Stock






Due to the color variation between monitors we recommend ordering samples before placing your order if color is important.

This is a forum to ask product related questions that will be answered by our design consultants. If you have a question regarding an order or a customer service issue, please call us at (888) 633-7840 or use our
contact form
.
Approved questions and answers may take several days to appear on site but you will receive a quick response to your question.
Q:
Do the light filtering panels also cut the heat from the sun. I have a sliding glass door that gets full afternoon sun and want something which will help to keep my house cooler.
Asked on Aug 7 2012 by Lorraine Lee
A:
The light filtering panels are mostly for privacy rather than the UV Protection. They will help some with insulation but a blackout fabric would be a better insulator. The best insulators are honeycomb shades or shutters but they are available for sliding glass doors.
Write a Review

Looks and works great but installation was horrible.
Aug 27 2013
Measuring:
I measured my own blinds!
Installation:
I installed my own blinds!
Looks and works great but installation was horrible. Had to modify the mounting brackets 2 different ways so that they would work. I installed inside the blind on a typical sliding door...the brackets should have been designed better. If you don't have good handyman skills you are in trouble.
This product has no upgrades available.
Shipping
Each of our blinds and shades are custom made to your specifications. You can expect them to arrive approximately 2 to 2 1/2 weeks after ordering. Standard shipping is UPS or FedEx ground.
Product Specifications
Width:
27" - 192"
Minimum Mounting Depth:
3"
Height:
24" - 144"
Minimum Flush Mounting Depth:
4.125"
Free Features

Stack Side
Specify the location of where the vanes gather when the blinds are drawn open.

Tilt Control
The tilter control is used to open and shut the blinds. Tilter control options are either a traditional wand or a cord pull. Blinds Chalet recommends the cord pull for easier use and durability.

Track Color
Specify the color of the panel track system.

Note: Panels are approximately 22" - 28" wide. This means there will be a stack of panels on each side they are draw open. You will need to add additional width and use outside mount if you do not want to block any of the view through the window. Mounting depth will vary based on window size.


Panel Track Configuration
Width
Panel Configuration
27" - 79"
One Way
2 panels
2 channels
1 overlaps
39" - 117"
One Way
3 panels
3 channels
2 overlaps
51" - 155"
One Way
4 panels
4 channels
3 overlaps
63" - 192"
One Way
5 panels
5 channels
4 overlaps
51" - 155"
Split Draw
4 panels
3 channels
3 overlaps
75" - 192"
Split Draw
6 panels
4 channels
5 overlaps
99" - 192"
Split Draw
8 panels
5 channels
7 overlaps
Panel Track Mount Depths
Track Dimensions & Depth Requirements
Min. Depth Required for Inside Mount
Min. Depth Required for Flush Mount
Min. Outside Mounting Surface
2 Channel Track: 5/8"h x 1 5/8"w
2"
2"
2 5/8"
3 Channel Track: 5/8"h x 2"w
2 1/2"
2 3/4"
2 3/8"
4 Channel Track: 5/8"h x 2 3/4"w
2 1/2"
2 1/2"
3 1/8"
5 Channel Track: 5/8"h x 3 3/8"w
3"
4 1/8"
4 3/4"
Need Help Finding Something?
At Blinds Chalet we can special order just about any window covering even if it's not on our website.

Call us at (888) 633-7840
or