7 Creative Ways You Can Improve Your Kitchen
Feb 5 2014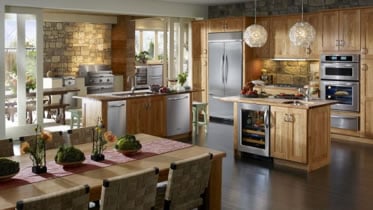 If you're looking at your kitchen and not liking what you see, then maybe it's time to amp up the volume and give your kitchen a makeover. Improving your kitchen's appearance doesn't have to cost hundreds of dollars. You don't have to renovate the whole room to give it new life. Modernizing some key features and adding little design elements can really turn your kitchen from dull to sophisticated.
Here are 7 creative ways to improve your kitchen's aesthetics.
COLOR AND LIGHT
1. Paint Walls and Cabinets a Fresh New Color
A simple way to brighten up any kitchen is to paint it a new and exciting color. Opt for light or relaxing colors to make the room look larger. Paint cabinet doors an interesting color or apply a different finish to make them look more sleek and modern.
2. Modernize Lighting
Install different types of lighting in various areas of the kitchen to give it a modern look. Instead of sticking to one central white light, try pendant lights, under counter halogen, or even drop ceiling lights to make the kitchen more sophisticated. A dimmer switch can go a long way in improving your kitchen. Install one so you can have the flexibility to change your lighting while cooking, entertaining, or sneaking in a midnight snack.
COUNTERTOP REHAB
3. Change Countertops into Innovative Materials
Conventional countertops come in all types of materials. Common ones consist of resins and polymers as well as natural stone such as granite and marble. Change it up a bit and look for other interesting materials to outfit your countertop with. There are now innovative materials like brick, concrete, and aggregates, which can turn your old countertop into an exciting one.
4. Tile It Up
An affordable way to improve your old countertop is by installing tiles. This allows you to modernize your countertop without having to replace it completely. Simply add on interesting titles to give your kitchen a sophisticated feel. Choose tiles that are heat resistant and able to withstand pressure changes without cracking. Because tiles are so versatile, you have the freedom to create new designs with different colored tiles or choose interesting patterns with shapes.
CREATIVE CABINETS
5. Open Cabinets
You can choose to do away with cabinet doors altogether and create open cabinets. These make the kitchen more interesting and less constricted. Instead of storing food items in the packaging that they came with, place them in clear jars or transparent containers. Place these inside your open cabinets to serve as decorative items as well as storage receptacles. You can even paint the inside of the cabinet a complementary color to your kitchen to give it more focus within the room.
6. Frame Job
A cool and new way to revamp old cabinets is by turning them into photo frames. Install wood or metal photo frames around cabinet doors. You can then choose to place favorite family or vacation photos inside the new frames. To give the illusion of space, you can also affix a mirror on the cabinet doors or place photos of landscapes within the frames. Another creative way to use frames and cabinet doors is by gluing cork on the surface and making an instant message board for shopping lists or messages.
MODERN APPLIANCES
7. Upgrade Appliances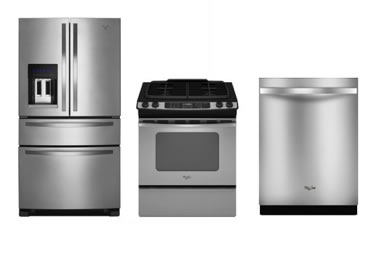 Of course, you can also choose to outfit your kitchen with the latest appliances. This will instantly transform your drab kitchen into a sleek and modern one. There are now many different espresso machines that can replace your old coffee machines as well as modern electric stoves that can outperform your old gas range.
While often thought of as a plain kitchen appliance, get a dishwasher with a modern to fit fabulously into your kitchen. Consider checking out Bosch SHX3AR55UC for some particularly sleek designs:
You don't have to do all seven of these to give your kitchen a makeover. Try one or two of these tips and see which ones fit your own taste.
Remember, you don't need a lot of money or a complete renovation to improve the way your kitchen works. Modernize with a few key features and experiment with creative ways to redecorate.
You never know, you might just end up spending more time in the kitchen because of how wonderful it looks after you're done.
Jake Smith is a Writer and Content editor at Canadian Appliance Source-
Cheapest Home And Kitchen Appliances in Toronto
. Who love to write on Home and Kitchen Improvements, technology and Education. He is writing on these topics from last 8 years.
Post a Comment