Home Sweet RV: Making Your RV Homey
Jul 25 2013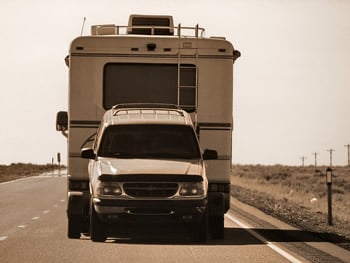 According to a new study from the Recreational Vehicle Association Industry (RVAI), nearly one in twelve vehicle-owning households in America have an RV. The sales of these campers are growing far faster than the overall population. Recent estimates put the total number of American RV enthusiasts at around 30 million. Why is RVing suddenly so popular?
Recreational vehicle owners have long been part of a subculture that's every bit as inclusive as motorcycling. But it wasn't until fairly recently that recreational vehicles went mainstream. The simplest explanation for their rising popularity is a demographic one. The Baby Boomers are easily the largest generation in American history. At last count, there were around 78 million of them, born between 1946 and 1964. These folks are only now entering their golden years. And, on average, they have more money and live much longer than their parents did.
The ultimate leisure activity
It should come as no surprise that the generation that once dreamed of hitting the open road like Jack Kerouac or the characters from Easy Rider is revisiting those youthful dreams in their later years. Of course, instead of hitching rides or driving hogs (large motorcycles), they're now traveling in style. The recreational vehicle of today offers all amenities you could ever ask for or expect. The one problem, however, is that they are not all that intimate when they roll off the factory floor.
Although they have more bells and whistles than their predecessors, the average RV is still designed for utility. So, if you want your camper to be a home, you must redecorate it with stylish, personal touches and flourishes. Here are a few simple decorating ideas that will transform your impersonal RV into a home.
Replace the couch
Most RVs are well appointed with boring, unattractive furniture. Because it is the centerpiece of any space, you might want to jettison that standard couch that came with your camper and put in one that is more modern and stylish. Perhaps a nice sofa bed that can accommodate additional guests on summer sojourns?
Add new window treatments
No one ever accused RV makers of having style or flair. In fact, most campers still look like they were designed in the 1950s! Replacing the stock window treatments with ones that match your new furnishings is an easy and reliable way to make your new RV feel less antiseptic.
Choose a theme
While not imperative, another simple way to make your RV more homey is to select a theme. Probably the most popular interior design theme for recreational vehicles is the nautical one. Owners often add decorative accessories like ships in bottles, fake anchors, and mounted fish to their RVs, even if they aren't sailors or boating enthusiasts, since the two activities share much in common.
Switch the mattress
Unless you purchase a top-of-the-line recreational vehicle, chances are the mattress in the bedroom will be of low or inferior quality. So, if you're going to be sleeping on board, we strongly suggest that you replace the stock mattress with a good bed.
Additional lighting
Most RVs are designed for short trips rather than extended stays. If you plan on taking longer trips, it is probably a good idea to put in extra or more powerful lighting in common areas of your camper. The kitchen, the bedroom, and even the living room of a standard camper may be too dimly or diffusely lit to read or work when you want. Putting in a few extra fixtures and lamps can solve this problem in a trice.
Install an awning
One of the things you will notice on your first trip to a crowded RV park is that most RV owners like to sit outside their campers during the day. An awning provides shade and protection from the sun and actually increases your living space by adding another room right outside your front door. You can make new friends and have parties and barbecues with this simple, retractable accessory.
Don't forget to put up your family photos
A home is not a home without some memorable pictures of your kith and kin on the walls and/or end tables. Just make sure they are securely in place before you leave for each new adventure. Falling photos can be a dangerous distraction on the road.
Author Bio:
This is a guest post by Martha Buckly, blogger and writer since very long time. She loves to share her experience and to help others; she also is currently collaborating with
custom writing service
. If you like this post, follow her on
Google+
Want to participate in the Blinds Chalet community?
View details
Related Products
Post a Comment