6 Living Room Makeover Tips that Won't Break the Bank
Jul 9 2013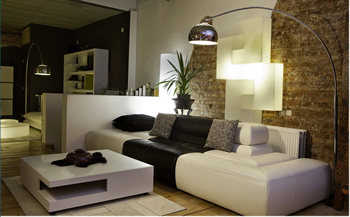 Families spend the majority of their time in the living room. Whether the family is gathered to watch a movie or play some video games, it's likely the hub of your home. If you're looking to remodel your living room, but your finances are limited, you'll want to check out these six tips to remodel your room on a budget.
Add a splash of paint
Nothing freshens a room like a new coat of paint. For a few hundred dollars you can give your living room a whole new look. Consider a light color, which tends to make the room look bigger. You should also consider paint with a primer added, it will cost a little more but you'll save time.
Buy a plant or two
Plants add life to a room. Depending on the amount of space you're working with, find a plant that compliments the room. If you don't plan to put it near direct sunlight, be sure to buy a hardy variety that can thrive on less light.
Add a few wall shelves
Shelves make cheap decorating items, but a lot of people clutter them with knickknacks and trinkets. Don't make that mistake. Instead, pick a color and add a few tasteful decorations to the shelf. For example, put three blue books on one end and a blue candleholder on the other end. By keeping everything in the same color scheme, the shelf will look crisp, not cluttered.
Ditch the old sofa
Nothing makes a room feel more out of date than an ancient piece of furniture.
For some reason, people have a real attachment to their sofa. Some people keep them around for decades. Times change, so yes, you need to ditch the floral sofa you bought on sale when you were 21 for something a little more modern. If you're looking for inspiration, check out
sofasandsectionals.com
. You'll find trendy and affordable furniture that can revitalize your living room.
Find the appropriate entertainment center
A lot of people have an entertainment center that doesn't fit the room. Some people have a monster set up with speakers and a giant flat screen, while others have a small box television sitting on a giant table. Regardless of your taste in electronics, make sure the entertainment center doesn't overpower your room. While your television may be well used, it shouldn't be the center of attention in your living room.
Steam clean the carpets
How long has it been since you've had the carpets cleaned? If you have kids or pets, they're likely overdo for a good scrubbing. You don't need to invest in all new carpet, just spruce up your existing carpet by getting it back to its like-new state. If you don't want to call professional cleaners, rent a cleaner at your local hardware store.
Bio:
Paul Kessler is a seasoned writer and journalist for the website
http://www.sofasandsectionals.com
. If you are looking for the best deals on Sofa's and Sectional's, shop there online!
Want to participate in the Blinds Chalet community?
View details
Post a Comment