Multiple Home Office Layouts with Glass Wall Partitions
May 1 2013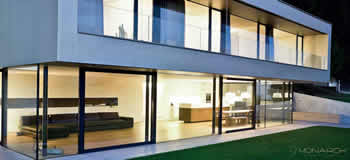 Glass wall partitions are all the rage nowadays, thanks to their increasing availability and use as well as their affordable prices. You will see glass partitions in residential units, hotels, condominiums, schools, laboratories and commercial offices because they are extremely versatile and you can use them in almost all types of settings. Flexible, space-savers and value-adding, glass partitions are really convenient and stylish to use.
Before selecting the perfect wall partition, you need to make up your mind first about the layout of your home office. You can opt for any of the following layouts that will fit your lifestyle and preferences.
Carved-out Closet Space - If you have a limited amount of space at home, why not maximize that small unused space into a work area with well-placed shelves and a sophisticated chair?
Tall and tiny Home Office - Spare a 3'x3' space around the corner of your room but make sure that the ceiling reaches 10' high. Keep your workplace organized by installing built-in shelves. Make sure to keep the walls in the same color to create the illusion of continuity.
Dreamy Draperies - After work time, keep all your business matters out of view by drawing the draperies closed on your home office.
The Office, Den and Guest Room Combo - A multipurpose room that provides a lot of space to use when you are working. The custom shelving and the desk as well as the two chic chairs will create a comfortable and cozy spot for you.
Dormer's Nook - Store the file boxes high on the shelves to free the floor space and make the room look bigger.
After laying out your home office design, it's time to have partitions. In planning to install glass wall partitions, check out the following important points:
Anticipated uses - Make sure to analyze first the application of the partitions to pick out the best options in terms of flexibility. If you want to let the air and light in but you also want to be able to close it for a little privacy, movable and demountable walls can be used.
Durability - This is one of the aspects that should be given utmost priority because the glass walls that you should buy needs to be able to withstand the wear and tear from expected uses. Also, this will help you get the most value for your hard-earned money.
Specification and selection of the glass - Another critical thing to consider is the glass choices themselves to avail of the best bets in the market today. Inspect the coatings, finishes and the safety design of the glass before shelling out money.
Divider and partition types - Since there are many options, you must also choose which type suits your purpose well.
Scale and size - Know the maximum height and width for glass panels and other sections such as sliding, swing and the fixed-panels. Standard widths range from 24-40 inches while door heights come in 80 or 96 inches.
Hardware, metal finishes and frames - Decide whether you want a full-wall or a half-wall door. The panel sections can be floor-mounted using a surface-mounted track or recessed with the finished floor.
The combination of the right home office layout and the perfect glass wall partition will surely make your friends and neighbors turn green with envy on your cool, efficient and stylish workspace.
Author Bio:
David Darga
has been working in construction since he was 17 years old, he took over his father's business at the young age of 24 and has turned it into a thriving success. David now focuses on luxury home renovations, featuring
folding glass walls
and other one of a kind builds.
Want to participate in the Blinds Chalet community?
View details
Post a Comment