Window Treatments: Pick Your Type
Mar 4 2013
From house to house, windows differ so much.
There are just so many things to iron out when choosing which window treatments suit your lifestyle. These include how much light you want to block or let in, your privacy concerns, and whether you want the window to offer a view or not. For those of you who don't know what to do, a range of window treatment alternatives await you. It's really up to you which one you would select.
Below are some of the great window treatments that you can definitely have at home:
Wooden Venetian Binds
Then leave it to your Venetian blind supplier to present to you several of its products.
If you love chic décor in your bedroom, library or study, then you can never go wrong with wooden blinds that are available in various finishes. Also, you can buy the blinds' fabric taped in a range of colors so you won't have a hard time finding a match to your fabric upholstered furniture. A great example is the red-taped white blinds in the kitchen to bring in more warmth and fun into this space. As a safety reminder, ensure to place the cord on the side away from the stove to avoid any accident.
ShuttersLined Curtains
You can have lined curtains in either heavier or lighter fabrics depending whether you love a classic appeal or a lighter look, respectively. Metal or wooden poles that come with synchronized finials and rings are perfect to hang a lined fabric on your window for a more sophisticated design. Moreover, you may require additional blinds or shades if you prefer swagged lined curtains or you want them to dangle directly downward toward the floor.
Roman Shades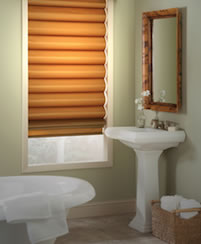 Less fabric is used when you go for roman shades in your window treatment. This means you can easily block the light coming into your room if your roman shades are produced using heavy cotton duck or canvas materials. The light, however, will come in easily for shades manufactured with a dreamy, gauzy fabric.
Balloon Shades
Traditional homes are better served with romantic shades or balloon shades. This type of window treatment always covers a third or half of the top surface of a window. It is also available in fabric and is ideal in the bedroom.
Sheer CurtainsBamboo Blinds
Tropical elegance is what tortoiseshell finished-bamboo blinds stand for. And they are also easy to maintain in second homes or country houses. If curtains are unavailable, hang the bamboo blinds surrounded by the window frame.
Value for money is what Maria Samuels always seeks in her shopping purchases. She is into interior design and works as materials specialist at In Style Modern, which emphasizes quality and affordability in its selection of great
mid century inspired furniture
.
Want to participate in the Blinds Chalet community?
View details
Post a Comment