Hang Roman shades to accentuate benefits of bay windows
Jul 2 2010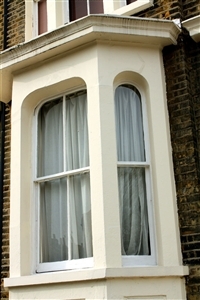 Hang Roman shades to accentuate benefits of bay windows
There can be a number of advantages of having a room with bay windows. They can offer fantastic views of the surrounding scenery and also allow light to gently bathe the room. Although there certainly are benefits, deciding how to decorate bay windows can be a problem.
According to Better Homes and Gardens, one of the most effective and aesthetically pleasing ways to address the issue is to hang
Roman shades
on each window.
The source claims that interior design experts recommend hanging Roman shades because they create a neat and clean look that is simple, yet effective.
HealthNewsDigest.com reports that making sure one has enough natural light and views of the outdoors can have a significant impact on both mental and physical health. Experts say that higher vitamin D levels often helps reduce the risk for osteoporosis, cancer, depression and heart attacks and one easy way to get vitamin D is to get enough sunlight.
Having an unobstructed view to the outdoors may motivate people to get outside more often as well. The news source states that going out more often can actually make people happier as physical activity has been shown to help people relax.
Bookmark/Share this page: