Storyboards can illustrate home designs, from window treatments to flooring
Aug 29 2011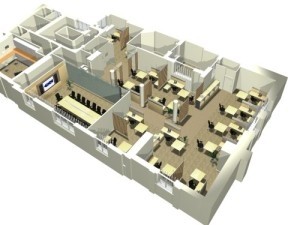 Designers often use 2D or 3D storyboards to illustrate their design schemes for clients.
Home decorators can take a lesson from students at the Art Institute of Virginia Beach, Virginia, when it comes time to create a new arrangement in a room.
According to the Virginian-Pilot, interior design students at the school move heavy furnishings, install wallpaper and paint walls all with the ease of one tool - a storyboard.
Storyboards are a commonly used method for many designers, who create a visual image of a room from colored drawings, chips of flooring and wood stains, as well as swatches of wallpaper, upholstery and other soft furnishings such as bedding and
window treatments
.
"For a profession so visual and tactile, storyboards - sometimes called mood boards - help not only the designer pull together their plans for a room, but help clients get a feel for what the end result of a makeover will be," the newspaper reported.
A window ensemble, for instance, could be illustrated on the board and swatches of
window shades
, blinds or
custom drapery
would be used to show the actual texture and color that homeowners can expect to see in the finished treatment.
Companies such as Blinds Chalet offer sample swatches so consumers can see a certain window blind or shade paired with furniture wood tones, wall colors and upholstery patterns that make up a room's design scheme. Free samples are accompanied by a special promotional coupon for extra savings when customers place their orders.
The storyboard used for an overall room design has two purposes as the plans progress.
"A storyboard is another tool not only to present [ideas], but also to record them so it's the formal record of what's going to be done. It's part of the design process," Susan Pniewski, director of interior design with H&A Architects & Engineers in Virginia Beach, told the newspaper.
Pniewski uses computerized, 3-D renderings of her room designs, from floor to ceiling. But home decorators can use simpler materials to create depth and miniature versions of their furnishings from foam core or craft materials.
Art Institute instructor Gerrie West, a designer with Folck West Architects, told the Virginian-Pilot that computer-assisted design is taught to students at the school, but doesn't necessarily replace a storyboard. She said a designer's clients still want to feel the materials and hold a replica of the planned room layout in their hands, and that's what a storyboard provides them.
Bookmark/Share this page: