Roller shades in the kitchen
Jul 20 2011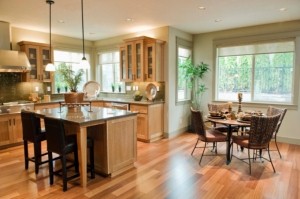 Roller shades are perfect options for kitchen windows.
The kitchen is perhaps one of the most functional rooms in a home. Whether you eat in a kitchen nook or prepare your meals on the countertops, the space has to be practical so that anyone can use it with ease. One important factor to take into consideration to ensure that everyone is comfortable in the kitchen is the amount of natural illumination that comes in through the windows.
Of course, completing any given task in the kitchen usually requires an ample amount of light. Light fixtures are great additions that can be used to produce extra brightness, but nothing compares to the radiance of sunlight. This is why you have to install the proper
window treatments
in the room, and
roller shades
might just be the right choice for the kitchen.
Roller shades are perhaps the most practical window treatments that you can use. With models that have light filtering technology, you can enjoy a balanced amount of sunlight while you cook your favorite meal. The functionality of roller shades are also unmatched - getting some much-needed privacy is as easy as pulling the shades down to your desired length.
Bookmark/Share this page: