A: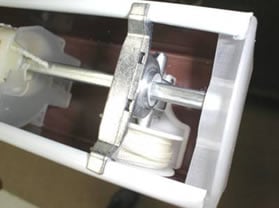 Because your window blinds are mounted to a french door that moves it is quite possible that over time the tilt rod has slid out of the tilter mechanism inside the headrail. This can easily be fixed by simply looking inside the headrail, you might need to remove the
blinds
, and locating the tilt rod. Ensure that the metal tilt rod is still in the tilt mechanism as shown. If the rod has slid out of place it can simply be inserted back into the mechanism and the blind is fixed. Without the rod inserted into the mechanism, when the tilt mechanism is turned the tilt rod will not turn.
French door blinds can be just about any
window blinds
ranging from wood blinds,
mini blinds
, and faux wood blinds. Simply choose your blind as an outside mount blind. The window blinds can be attached to the door above the window. Make sure you order hold downs to secure the bottom of the blinds in place so it does not move when the door is opened and closed.
Bookmark/Share this page: