A:
With larger window sizes, horizontal blinds such as
wood blinds
or
faux wood blinds
become heavy to raise with a standard lift cord. The weight of the window blinds can also prematurely wear the lift cords and lift mechanisms. For these larger windows we recommend splitting the window blind into multiple blinds.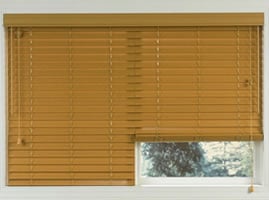 2 on 1 Headrail Blinds
This can be accomplished by either mounting multiple blinds side by side in the same window frame or by ordering a 2 on 1 or a 3 on 1 headrail window blind.
3 on 1 or 2 on 1 headrail blinds are
window blinds
that share a common headrail and valance. Each blind within the multiple headrail blind will have its own lift and tilt controls. When ordering you can also specify the size of each window blind on the common headrail.
Because there is a slight gap between each window blind on the shared headrail, it is best to align these gaps to the window frame. For instance if your window is divided into to equal sections, order the window blinds as a 2 on 1 headrail with 2 equal size blinds. By aligning the gaps in the headrail the blinds will provide greater privacy and light control.
Bookmark/Share this page: